Our Staff
FAMILY. TRUST. EXCELLENCE.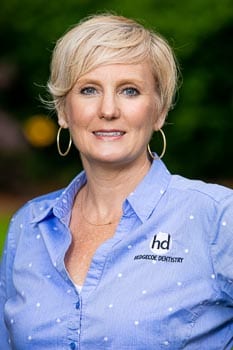 Anne – Reception
My name is Anne.  I am happy to be working at Hedgecoe Dentistry with my family.  I graduated from Terry Sanford High School and Wake Forest University with a degree in Communications.  It makes me proud to be part of an office with the best staff and most talented dentists.  I love working in the front office!  My husband and I have two wonderful sons.  I love going to the beach, watching my boys play sports, and spending time with my family.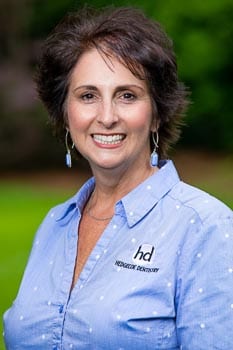 Kim – Reception
Hi, my name is Kim. I was born and raised in Fayetteville and have lived here most my life. I graduated from Fayetteville Tech's Dental Assistant program in 1987. I started with Hedgecoe Dentistry as a dental assistant for Dr. Joel Hedgecoe in 2003 and have recently transitioned to the front desk. I am married to Greg, a wonderful man, and we have a son and a daughter who are both in the army, a beautiful daughter-in-law, and one precious granddaughter. I enjoy reading, exercising, relaxing, spending time with my family and being involved in church activities. I couldn't imagine working anywhere else. I have enjoyed watching our younger patients grow up over the years. That's what makes our office special: the loyalty of our patients. Come check us out.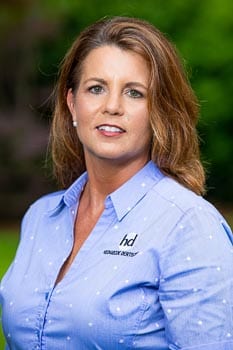 Heather – Reception
Hi, I'm Heather and I've worked here at Hedgecoe Dentistry since 2007.  I worked as a dental hygienist for most of those years but most recently started working full time at the front desk. No matter what position I am working in the office, I enjoy interacting with the wonderful patients here and working with our incredible doctors and staff.  My husband and I have lived in the area since 1994.  He is now retired from the army and works in civil service.  We have three grown children and one grandson.  Life is great and we are so very blessed! I invite you to come check out our office and see for yourself what sets us apart from others. Hope to see you soon!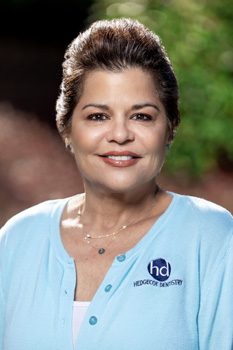 Angela – Reception
Hi, my name is Angela. I was born and raised in Fayetteville and graduated from the FTCC Dental Hygiene program in 2002. I had the pleasure of working for a few years as one of Dr. David's hygienists before life moved me on. After spending several years away from the Fayetteville area, I returned in 2020. I was so happy to be invited back into the Hedgecoe family to work at the front desk. It is such a joy to be back working with these amazing doctors and wonderful team. You are truly cared for like family at Hedgecoe Dentistry.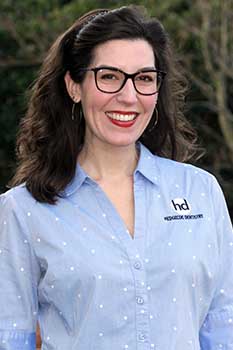 Danielle W. – New Patient Coordinator
Hey there! I'm Danielle! I was born and raised in Hope Mills, North Carolina, and have lived here my whole life. I graduated Dental Assisting school in 2008, worked for the Army as a civilian Dental Assistant for 5 years, and then started my life here with Hedgecoe Dentistry in 2013 as Dr. Logue's Lead Assistant. I temporarily retired in 2017, when my precious twin boys were born, and I was blessed to be able to stay home with them for 5 years.
My goal was always to come back home to this office after the twins started school, and here I am!
I am absolutely thrilled to be back here with my Hedgecoe family! I now work at the front as the New Patient Coordinator, but occasionally, I get the joy of helping out in the back as an assistant. I get to do everything I love, and I'm truly living a dream!
When I'm not here at the office, you can find me doing anything outdoors with my boys and our German Shorthaired Pointer, Kevin Ellie.
I love to sprinkle joy wherever I can & make people laugh! Hedgecoe Dentistry is certainly the place to feel cared for as a whole— we're not only here to care for your teeth— we also strive to feed your soul! We're all family here, and we welcome you as family, too! I hope to see you soon!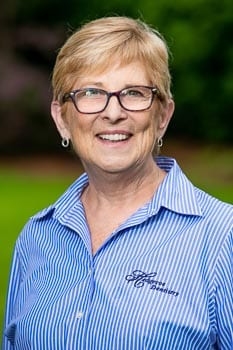 Georgia – Reception
Hi, I'm Georgia. I have officially retired after 28 years working with these wonderful doctors and staff. One thing I truly enjoy is receiving a phone call to fill in at the front when someone is on vacation or out of the office. It's like visiting family. Come see what makes Hedgecoe Dentistry the ultimate in dental care.
Kristen – Dental Assistant
Hi, my name is Kristen. I am a Hope Mills native and have been a lead certified dental assistant for many years. I am married to my wonderful husband Cory and we have an amazing daughter Addison. I enjoy playing outside with my family in my free time. I love transforming smiles so please come see me.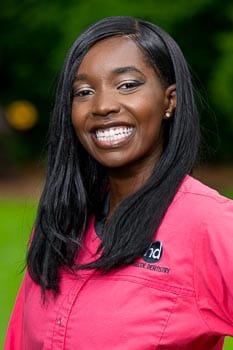 Danielle A. – Dental Assistant
Hi there! My name is Danielle and I am Dr. Joel Hedgecoe's dental assistant. I love being a dental assistant. My job allows me to enjoy all of my favorite things from public speaking, to meeting new people, and even writing. I don't think that I could have found a better career or a better office to be at than Hedgecoe Dentistry. When you visit us you will experience firsthand why I love it so much. I look forward to meeting you and making your dental experience amazing.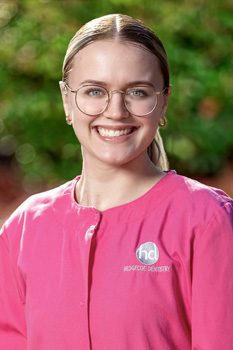 Jordan – Dental Assistant
Hi! I'm Jordan. I am born and raised here in Fayetteville, NC. I graduated at the top of my class from Reid Ross Classical in 2018. I furthered my education at FTCC and graduated from the Dental Assisting program in July 2022. I was lucky enough to find Hedgecoe Dentistry while still in school and have been eagerly working here ever since. Hedgecoe Dentistry, the doctors, and staff have done nothing but spark my fascination and newfound love for dentistry. I also enjoy being a mama to my three fur babies and spending time with my family and boyfriend. I am super pumped to get to apply my knowledge that I have learned here at Hedgecoe Dentistry to better help my fellow people of Fayetteville. Hope to see you guys soon!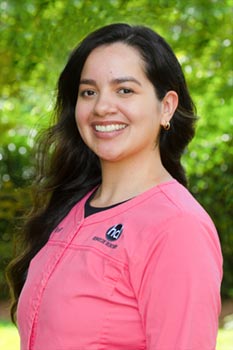 Melissa C. – Dental Assistant
My name is Melissa. I am a certified dental assistant who graduated from the FTCC Dental Assistant program. I was highly recommended by my instructors as being top of my class. I was born and raised in Houston, Texas and am bilingual in English and Spanish. My family and I have been calling North Carolina Home since 2011. In my free time I enjoy spending quality time with my family by exploring and trying new foods.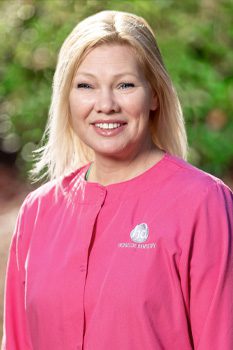 Amy – Dental Assistant
My name is Amy, and I was born and raised in Kannapolis, NC. I earned my Dental Assisting certification from Bowman Gray and worked in Charlotte for 10 years.  After my first child, I decided to be a stay-at-home mom to my three wonderful children for 20 years. Now that they've grown up, I'm continuing my career in dental assisting with the Hedgecoe Team.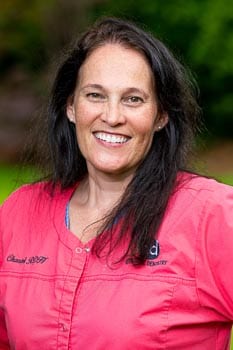 Chantel – Dental Hygienist
Hi! I'm a Fayetteville North Carolina native and graduated from Fayetteville Technical Community College as a dental assistant in 1996. I started with Hedgecoe Dentistry in 2000 as Dr. David's first assistant and worked chairside with him for ten years. I continued my dental education by graduating from the dental hygiene program at FTCC in May 2010. I had the pleasure of returning to the Hedgecoe family as a dental hygienist. My husband, Ed, and I have a wonderful son, Paul.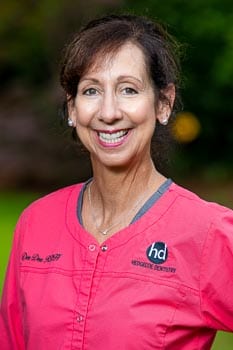 Dee Dee – Dental Hygienist
I've worked at Hedgecoe Dentistry as a dental hygienist for Dr. David since graduating from FTCC in 2000 when he joined this practice. Our patients and staff give this office a great family atmosphere. I am married to a wonderful man, Walter, who is retired from the army, and we have one beautiful daughter, a handsome son-in-law, and a perfect granddaughter.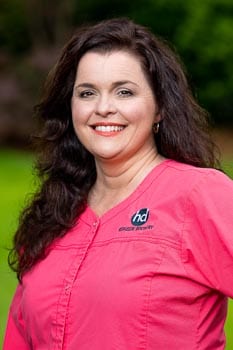 Jackie – Dental Hygienist
Hi! My name is Jackie. I'm a lifelong native of Fayetteville and a 2007 graduate of Fayetteville Technical Community College. I have been a hygienist with Hedgecoe Dentistry since 2009. I love working here because everyone is like a family. I have been married to my husband Jonathan since 1995 and we have 3 handsome sons. I'm excited and honored to serve you as a member of the Hedgecoe Dentistry team.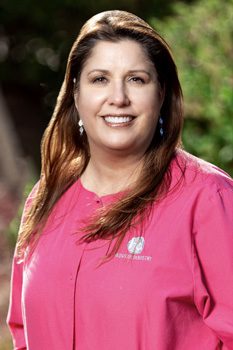 Melissa I. – Dental Hygienist
Hi, my name is Melissa. I have been in dentistry since I was 19 and soon decided I wanted to attend hygiene school after being a dental assistant. I attended dental hygiene school in Florida and graduated in 1999, and moved to Fayetteville shortly thereafter. I've been married to my wonderful husband, Dan, for over 20 years and we have a teenage son. In my free time, I'm usually traveling or working on home improvement projects. One of the many things that I love about our practice is the family atmosphere with both the staff and patients.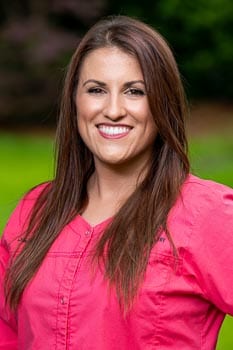 Samm – Dental Hygienist
Hi, I'm Samm! I became a dental hygienist in 2013 and now work at the best dental office in town. Even though I'm part time, I have always felt like a full time team/family member. I spend most of my free time giving my daughter the best childhood memories that I can and also preparing her to be a big sister I soon!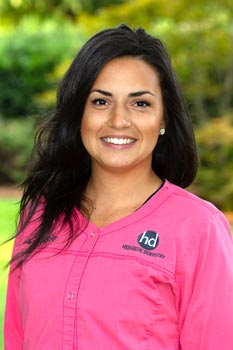 Sam L. – Dental Hygienist
Hey, I'm Sam! I am a part time dental hygienist here at Hedgecoe Dentistry and graduated from FTCC Dental Hygiene program, practicing since 2015.  I have lived in Fayetteville since I was 5 years old and am lucky to have my wonderful husband Jon and stepson Cameron. In my spare time, I love working in the yard, being at the lake with my dogs, and practicing real estate! I absolutely love the dental field and enjoy working here at Hedgecoe Dentistry! They most certainly have a way of making you feel like family and provide the most optimal dental experience around!